A Message from Pakshi
The other birds nominated me to be the spokesparrot for this page. On behalf of my avian brothers and sisters, I proudly accept the awards given to us below..

Pakshi
February 2008 - Natalie (aka: "Smiley") of Smiley's Birds sent us the award below - Thank you, Natalie! Be sure to check out her message board - great forum where you can to "chat" with others.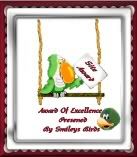 November 2005 - Eleanore of Cockatiel Cottage sent us these 2 awards - Thank you, Eleanore! We hope you'll visit Eleanore's website. When she contacted us about the awards, we went out and looked at her site - and Aussie was AMAZED (so was Mom) with all the wonderful 'Tiel-centric' information. Actually... you can learn a lot about parrots in general from Eleanore.